Camanche Middle School Announcements
February 15, 2023
NO SCHOOL FEBURARY 20TH
NO RUNNING IN THE HALLS!!!!!
Activites
Feb. 21-Boys Basketball game (Bellevue) at 4:15pm
Feb. 23-Boys Basketball game (Home) at 4:15pm
Feb. 24 & 25-Middle School Play-"Humpty Dumpty is Missing" at 7pm
Feb. 27-Boys Basketball game (Cascade) at 4:15pm
Mar. 02-Boys Basketball LAST game (Home) at 4:15pm
Camanche Middle School Presents
Humpty Dumpty is missing!!!!
The mysterious case of the fallen egg, a comedy Whodunit.
Where: Middle School Gym
When: February 24 & 25 at 7:00PM
$5.00 Tickets sold at the door.
Come out for a night of entertainment!!!
Spring Picture Day
Picture day is coming!!!!! Order online!
ORDER NOW online at INTER-STATE.COM/ORDER
User code:76650WB
Picture day is February 27th!
Deadline for $15.00 Yearbook is March 3rd
On sale now for $15.00. You may go on your family portal and pay or your student may bring the money to the office. There are forms on the activity rack if paying in person. After March 3rd the price will be $20.00.
We need your pictures! Upload your pictures to Yearbook Snap. Search Camanche Middle School and use code Storm.
Battle of the Books-March 21 6-8PM
Students need to sign up with their literacy teachers and start reading the Iowa Children's Choice Books. This event will be held in the Middle School Library.
Bus Students
Too many students have been missing the bus because they are playing in the snow or leaving school grounds. We will no longer ask the bus to come back to the school for those students. So please be patient and wait for the bus if you are needing a ride.
Happy Birthday Grams!!!!
Birthday Grams are available for your students. Please call or go on the Fine Arts Boosters Facebook for more information. Proceeds benefit the Fine Arts Boosters.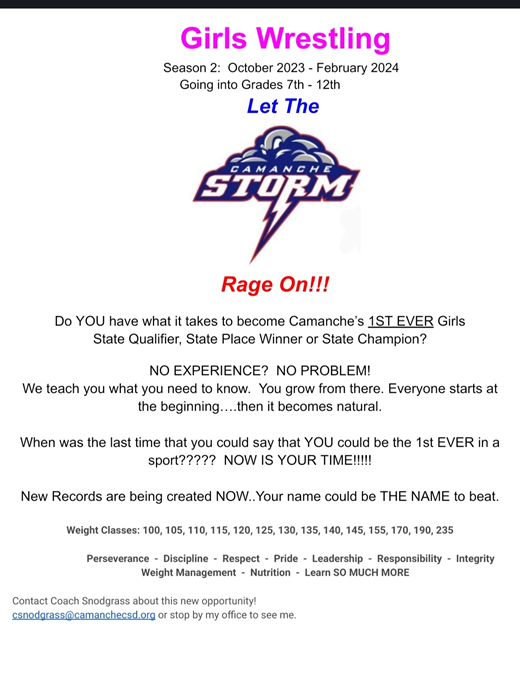 Future Dates
Feb. 23-5th Grade to Biztown
Feb. 27-SPRING PICTURE DAY!
Feb. 28-Hex 4 Ends
Mar. 01-Hex 5 Begins