CES Newsletter - October 25, 2018
Jessica Witt
Thursday, October 25, 2018
Camanche Elementary Newsletter
NEWSLETTER #19-9
October 25, 2018

ADCRAFT APPAREL ORDER
Just a reminder that the Camanche Elementary fall apparel web store is open for just a few more days! We have a great selection of items for you to purchase! Our web store will run through Sunday, October 28th. Here is the link again: www.AdcraftWebstores.com/CamancheElementaryFall2018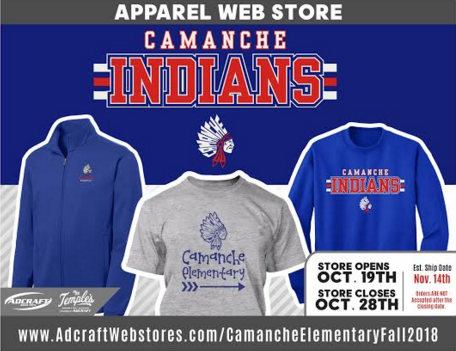 S'MORE FOOD DRIVE
We need help from S'MORE people to help stock our community food pantry! Camanche Elementary is getting ready to start our annual food drive on Monday, October 29th and it will end on Friday, November 16th. On this camping trip, each classroom S'MORE will be racing toward the blazing bonfire at the end of the campsite! The winning class at the end of each week will earn an extra recess and the winning class at the end of the food drive will receive an extra recess, a special S'MORE treat, and the Food Drive traveling trophy! Which class will win and be happy campers in the end? The adventure awaits!
The number of non-perishable items and/or amount of money donated ($.50 equals one non-perishable item) will be counted daily and each classroom's S'MORE will be on the bulletin board by the cafeteria.
CRAYOLA COLORCYCLE
Mrs. Kennedy and some of her students just sent more worn out/dried up markers to Crayola for recycling! So far, our school has sent 19 POUNDS of markers just this school year! Recycling old markers instead of throwing them away is one more way we can protect our environment. We'd like to encourage you to send worn out/dried up markers to school. Any brand of marker including dry erase markers are acceptable. Mrs. Kennedy has a clearly labeled box outside of her classroom where the markers can be placed. Let's all do our part to help protect our environment!
PTA FIELD TRIP FUNDRAISER NIGHT
The next Field Trip Fundraiser Night will be at Back Shop Pizza on Wednesday, November 7th from 5:00 – 8:30 p.m. Back Shop Pizza will donate 10% of all dine in, carryout, and delivery orders to the Camanche Elementary PTA to help with field trip costs! In addition, each child in attendance at Back Shop Pizza on our fundraiser night will receive a FREE $5 game card to use in their awesome arcade! See you there!!
CONGRATULATIONS SUMDOG TEAMS!
Congratulations to both school Sumdog math teams! They earned top scores in the Eastern Iowa Sumdog Math contest. In this competition, the students had to answer 1000 math questions at their level within one week. Generally the work was done outside of school and it took hours of concentration by the participants! The students were assessed on their accuracy and their fluency. The fourth grade team earned FIRST PLACE and the third grade team earned SECOND PLACE out of 37 teams!
Members of the fourth grade team are: Cooper Beasinger, Elliot Boonstra, Noah Carney, Bobby Evers, Ayden Gendreau, Thelma Henriksen, Chase Kennedy, Chase Peterson, Josie Srp, and Starla Starbuck.
Members of the third grade team are: Ben Burken, Grace Dorsey, Jenna Dunlap, Drew Graves, Kaleb Lehmkuhl, Emma Ricklefs, Vinnie Srp, Keagan Starbuck, Olivia Steines, and Cailee Sullivan.
There were 773 students in the contest. Camanche Elementary School had 7 students who earned a top 10 score. Those students were:
Bobby Evers – 1st Place
Josie Srp – 3rd Place
Grace Dorsey – 4th Place
Olivia Steines – 5th Place
Cooper Beasinger – 7th Place
Jenna Dunlap – 8th Place
Elliot Boonstra – 9th Place
Bobby set a new Camanche Elementary School record by answering 996 questions correctly. We are so proud of your accomplishments and impressed by your perseverance!
CALLING ALL BOX TOPS AND MILK CAPS
If you happen to be saving Box Tops for Education and Milk Moola, please check their expiration date, as some will expire 11/1/18. If you have any that will expire soon, please send them to school with your child next week. We would like to get them all counted and submitted by 11/1/18. Forms to submit Box Tops are available in the Camanche Elementary main office or online at: https://www.boxtops4education.com/about/collection-sheets Thank you!!
FALL FEST
Camanche Elementary classes will be celebrating fall with a Fall Fest tomorrow from 2:30-3:00. Please follow the guidelines from the Healthy Kids Act. A list of approved snacks is available on our school website. Due to food allergies, any items that do not come pre-packaged will be sent back home with the family that brought them. Thank you for keeping our students safe!
CES READING GOAL
As a school we have set a goal of 98,500 minutes in the month of October. So far, our school has read 83,374 minutes. We will have a BEACH DAY at the beginning of November if/when we reach our goal. Thank you for helping support this work!
ATTENDANCE
If your student is going to be absent, will arrive late, or needs to leave early, please make sure to call the main office no later than 9 a.m. on the day of the absence, tardy or early dismissal.
Our attendance is currently 96.61%. We as a school have set a goal of 97%. Thank you for working with us to reach that goal, EVERY DAY matters.
DATES TO REMEMBER
October 26th Fall Fest Classroom Parties
October 31st City of Camanche Trick or Treating 6:00-8:00
November 21st-23rd NO SCHOOL – Thanksgiving Break
November 29th 1st Grade to St. Ambrose University
December 13th Winter Music Program for K-4 Matinee Performance at 1:30 p.m.
December 13th Winter Music Program for Grades K-2 Evening Performance at 6:00 p.m.
December 13th Winter Music Program for Grades 3-4 Evening Performance at 7:15 p.m.
Yours in education,
Aimee Dohse – Principal