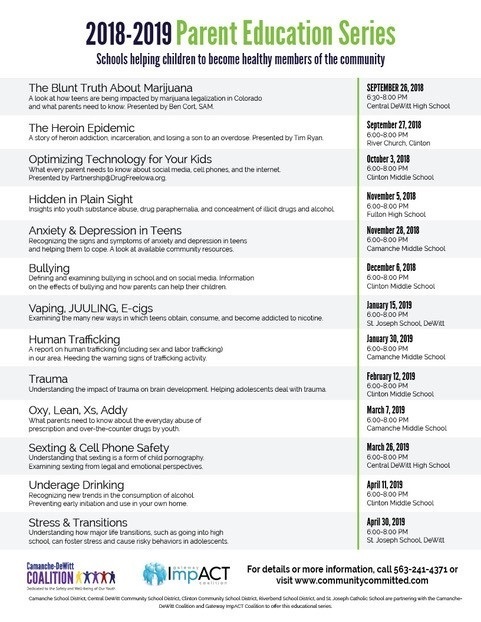 Optimizing Technology for Your Kids
Justin Shaffer
Monday, October 01, 2018
Please join us on Wednesday, October 3, 2018, from 6:00-8:00 PM at Clinton Middle School, for our 3rd session in Parent Education Series: Optimizing Technology for Your Kids. This session will be presented by Peter Komendowski, President and Executive Director, Partnership@Drugfreeinfo.org
The average teenager spends over 60 hours per week living in a virtual digital universe. Why should you care? The digital universe has the ability to exert influence on their behavior without your consent, and the intentions are not necessarily good.
Digital technology has the power to change the world. Used properly that is a very good thing. But, when it adversely affects the health, welfare and potential of your child it may be one of the most potentially dangerous experiences in a child's life.
Lack of sleep, poor grades, poor diet, health issues, bad attitude, anti-social behavior, aggression, sexting, bullying, pornography, violent media and video games ... these are just a few of the warning signs that your child's experiences on cell phones and computers may be hurting them much more than helping.
Find out what you can do to minimize the risks and maximize the benefits of your child's digital experiences. You can make a difference that even a difficult teen can appreciate.
This is part of the Parent Education Series, a series of 13 informational sessions that participants can attend throughout the region. The goal of these sessions is for communities and schools to work together to help children become healthy members of the community. All the sessions are free and open to all parents and community members.
All sessions are free and open to any parent or community member. We encourage all parents to attend these presentations! For details or more information please call 563-241-4371 or visit: www.communitycommitted.com
The Camanche School District, Central Clinton School District, Clinton Community School District, Riverbend School District, and St. Joseph School are partnering with the Camanche-DeWitt Coalition and the Gateway ImpACT Coalition to offer the 2018-2019 Parent Education Series.
Information about Mr. Komendowski. Peter serves as president of The Partnership @DrugFreeIowa.org and Face It Together coalition. Peter studies the habits of American youth to develop an understanding of what motivates human behavior, and develops educational programs to help motivate healthier decision-making. Working with Dr. Douglas Gentile of Iowa State University, he is developing Digital Literacy, Wellness and Critical Thinking skills curricula and training programs.
He speaks to children and adults, on topics ranging from "A Mindful Approach to the Media - Knowing the Tricks & Traps," and "Why Social Media is not as Social as You Think," to "How Substance Abuse, Media and other Addictive Behaviors Impact Your Bottom Line," and "Rebuilding America from the Inside Out." He has enjoyed a healthy dose of media exposure, has been a TEDx speaker, and hosts the TV Show "Surviving Bad" on Mediacom.
Peter can be reached at Peter@DrugFreeIowa.org